Our Private Events are currently limited to Wedding Ceremonies, Engagements/Proposals and Memorial Services. We are not able to accommodate baby showers, birthdays or other events that might include food & drinks. If you have questions about a special event concept please contact us.
If you are considering booking an "after hours" private event contact us at: info@shinzenjapanesegarden.org
PRIVATE EVENT LOCATIONS INSIDE THE GARDEN
Currently private events are limited to 100 guests. Shinzen Garden has a variety of curated scenes with a combination of architectural and sculptural features that offers a beautiful backdrop for your special event! Several areas are open for consideration, limited only by logistics. For events larger than 100 guests please contact us.
Events are scheduled during normal Garden visiting hours. Our booking calendar is a "first come, first serve" system since we only book ONE EVENT during any given date/time. There may be patrons enjoying the Garden during your event that are not part of your group.
IN ORDER TO REQUEST A PRIVATE EVENT
STEP 1: Check the online calendar, found below in the Choose Appointment/Private Events, to see if the date/time of your desired event is available. Events are booked on a "First Come, First Served" basis. We recommend that you DO NOT book your event until you have completed a scheduled sitewalk.
STEP 2: Schedule a Shinzen Garden "sitewalk" and we will meet you at the garden to discuss the options available for your event. Sitewalk appointments are booked online (below) since our offices are located off site. We are available M-F, 9AM-4PM -or- call for an appointment @ 559.840.1264
STEP 3: After completing the garden sitewalk, return to this page and book your event on the PRIVATE EVENTS appointment calendar below and include a minimum $150 non-refundable deposit to guarantee your specific date/time. WE DO NOT DOUBLE-BOOK EVENTS. Note that dates/times may not appear in the calendar, indicating that the specific date/time has already been booked and is no longer available. You only see calendar dates/times that are open. The Garden agrees to provide a reasonably clean environment for your event, keeping in mind that the Garden is an outdoor venue and, as such, is in a natural state. You are responsible for cleaning and maintaining the Garden event area and ensuring the safety and well-being of your guests. You are expected to leave the Shinzen Garden grounds in the original condition as to prior of your scheduled event. Should the cleanliness of the event site be in question, photos will be used as part of the records to determine any additional cleanup fees.
STEP 4: There are THREE (3) documents that will need to be completed and submit prior to having your event approved. Download these PDFs, complete the forms, and return them to us.
Complete and return our Rental Agreement form HERE
Complete and return the City of Fresno, "Hold Harmless & Insurance Requirement" form

HERE

.

Submit a

One Day Insurance "Rider"

policy referred to in the City of Fresno's "Hold Harmless & Insurance Requirement" section.
STEP 5: If you are going to hire a professional photographer for your event, please apply for a photo permit HERE. You do NOT need a photo permit if you are having family/friends take photos during your event.
OUR MAIN EVENTS VENUES
The Ume Grove View

(10-15 guests)

is an intimate picturesque garden spot that has meandering paths and winding waterways. See our Virtual Tour (VR) to explore this location HERE.
The Autumn View

(up to 50 guests)

offers your guests a backdrop of glowing fall foliage of Chinese pistachio and ginkgo trees, not to mention the wonderful Woodward Lake. Explore VR HERE.
The Double Moon Bridge View

(up to 60 guests) located on the North side of the KOI POND

offering your guests a perfect view of the Double Moon Bridge and Koi Pond and Woodward Lake in the distances.

Sago Forest and Waterfall View

(up to 100 guests) is a spectacular spread of sago palms, meandering paths and the serene sound of waterfalls that encircle this area. Explore VR HERE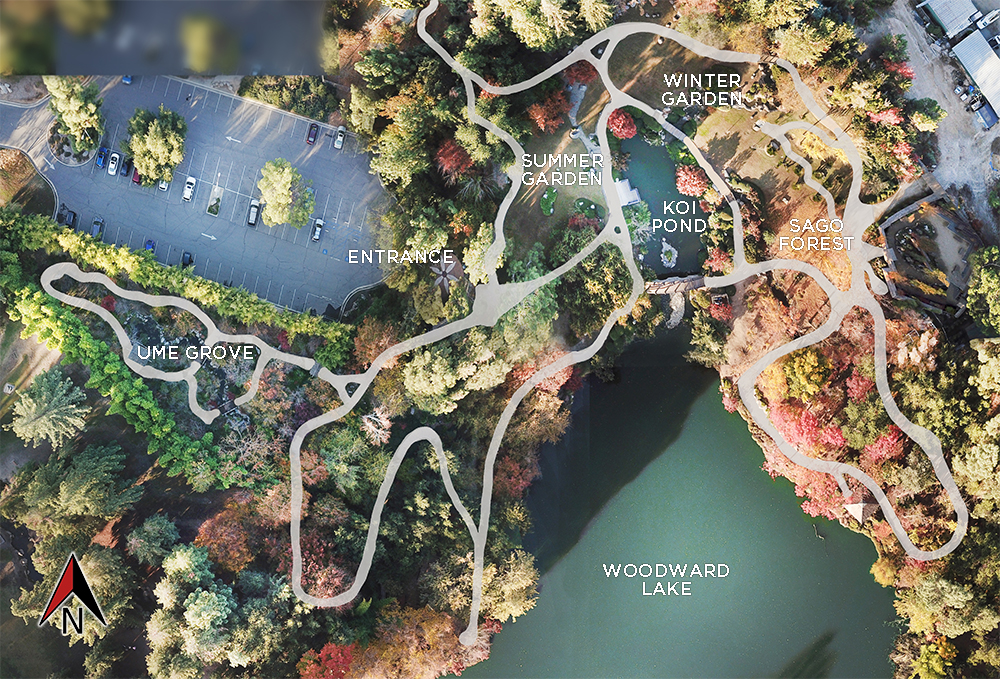 BOOK A SITEWALK                                         BOOK AN EVENT